Applied as a second coat, Xypex Modified chemically reinforces Xypex Concentrate where two coats are required and produces a harder finish. Where damp proofing is required, a single coat of Modified may be used as an alternative to a spray/tar emulsion.
Advantages of Xypex
Becomes an integral part of the substrate
Resists extreme hydrostatic pressure
Can seal static hairline cracks up to 0.5 mm
Highly resistant to aggressive chemicals
Can be applied to the positive or the negative side of
the concrete surface
Does not require a dry surface
Non-toxic / no VOCs
Is Permanent solution requiring no further maintenance
Less costly to apply than most other methods
Extends the service life of concrete
No costly surface priming or leveling prior to application
Does not require sealing, lapping and finishing of seams at
corners, edges or between membranes
Does not require protection during backfilling or during
placement of steel, wire mesh or other materials
Cannot puncture, tear or come apart at the seams
Allows concrete to breathe
Recommended for
Reservoirs
Sewage and Water Treatment Plants
Secondary Containment Structures
Tunnels and Subway Systems
Underground Vaults
Foundations
Parking Structures
Swimming Pools
Packaging
Xypex Modified is available in 60 lb. (27.2 kg) pails and 50 lb. (22.7 kg) bags.
Coverage
For normal surface conditions, the coverage rate for each coat is 6 – 7.2 sq. ft. per lb. (1.25 – 1.5 lb. per sq. yd. or 0.65 – 0.8 kg/m2).
Storage
Xypex products must be stored dry at a minimum temperature of 45ºF (7ºC). Shelf life is one year when stored under proper conditions.
Coating Application Details
Xypex Coating Installation and General Information
Xypex recommended installation procedures and general directions for waterproofing of concrete using Xypex Concentrate and Modified coatings.
Negative Side Waterproofing of Below Grade Concrete
Xypex recommended procedures for the repair of leaks and for the general waterproofing of below grade concrete structures performed on the negative side/inside of the structure.
Waterproofing of CMU & Concrete Block Walls
Xypex recommended procedures for waterproofing CMU and concrete block structures from the positive or negative side.
Fast-Track Coating System
Xypex recommended procedures to allow a rapid return to service of Xypex coated water holding structures (3 - 4 days from the start of material applications).
Application of Thinset, Stucco, etc. onto Xypex Coatings
Xypex recommended procedures for application of thinset, plaster, stucco, cement parges, etc. onto Xypex Coatings.
Waterproofing of Dry Mix Shotcrete/Existing Concrete Pools
Xypex recommended procedures for use of Xypex Coatings to waterproof dry mixed shotcrete (gunite) placed pools, fountains, etc that will receive tile, pool plaster or other additional overlaying finishes.
Xypex recommended Estimating Table is a guide only. Actual usage may vary according to the project.
General Resources
Safety Data (SDS) – Cementitious Products
Specifications – Coatings
Schematic Drawings – Coatings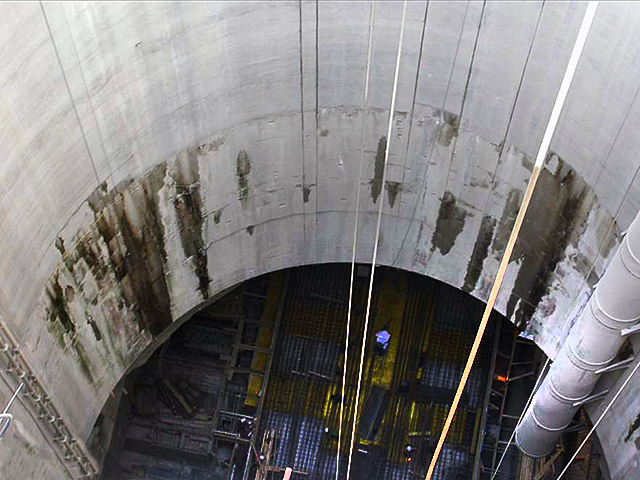 Cern Point 5 Nuclear Research Centre
The Cern Project was a test carried out by scientists to try and re-create "The Big Bang". As another product was unable to penetrate into the porous concrete, Xypex was requested. Xypex Patch'n Plug was applied to several cracks in the construction of underground chambers, and Xypex Concentrate, Modified, and Gamma Cure were used to treat the concrete surface.
Projects Using This Product