Dam & Irrigation
Preserving Structural Integrity of Dams
The long-term structural integrity of dams and irrigation systems depends on keeping moisture from contacting the steel reinforcement. Inadequate waterproofing, cracks, failing joints, biochemical attacks, alkali aggregate reaction and abrasion are problems often found in this challenging environment.
Deteriorating concrete can lead to water loss, reduction in water flow and expensive unplanned maintenance. Failing or compromised dams and irrigation systems can even threaten public safety and environmental quality, so it is critical to protect and maintain them. Whether specified for new construction, or used for repairing and rehabilitating dams and irrigation systems, Xypex Crystalline Technology blocks water ingress into the structure and extends the life of these critical structures.
Find Projects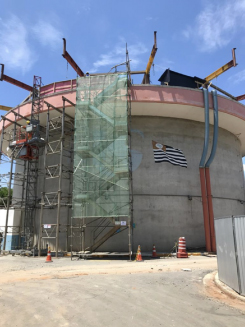 Pinheiros Sewage Pumping Station
Xypex Bio-San C500 was selected due to its ability to permanently waterproof the concrete and increase the structure's resistance to sulfates and sulfuric acid attacks while preventing the growth of the bacteria that causes MIC.