Xypex Bio-San C500 is a uniquely designed admixture for integral, long-term protection of concrete in harsh sewage conditions with levels of H2S that cause microbial induced corrosion (MIC). Bio-San C500 combines potent antimicrobial protection along with the unique crystalline technology of the Xypex Admix C-Series.
Bio-San contains bio-active mineral solids that become permanently fixed within the cement matrix impairing bio-film formation thus inhibiting the growth of acid causing sewer bacteria such as Thiobacillus due to concentrations of H2S. The unique Xypex Crystalline Technology creates a permanent structure throughout the pores and capillary tracts providing waterproofing and enhanced chemical protection including acid and sulphate resistance. Bio-San C500 prevents microbial induced corrosion, stops infiltration/exfiltration of water, and provides acid and sulphate resistance, significantly extending the service life of concrete sewage collection systems and waste water infrastructure.
Advantages of Xypex
Inhibits microbial induced corrosion
Resists extreme hydrostatic pressure
Resistant to aggressive chemicals (acids and sulphates)
Can seal static hairline cracks up to 0.5 mm
Becomes a permanent, integral part of the substrate
and cannot be punctured, damaged or lose adhesion
Does not contain any VOCs
Less costly to apply than most other methods
Added to the concrete at the time of batching and therefore
not subject to weather and surface moisture constraints
Recommended for
Manholes / Sewer Pipes
Pump and Lift Stations
Head Works
Septic Tanks
Digesters
Clarifiers
Industrial Structures
Packaging
Xypex Bio-San C500 is packaged in 50 lb. (22.7 kg) pails. Contact the manufacturer for availability of customsized packaging to meet the requirements of your specific project.
Dosage Rate
1% by weight of total cementitious content.
Storage
Xypex products must be stored dry at a minimum temperature of 45ºF (7ºC). Shelf life is one year when stored under proper conditions.
Bio-San C500 Specific Details
Filling Tie Holes in Xypex Bio-San C500 Concrete
Xypex recommended procedures for waterproofing concrete tie holes in new construction where Xypex Bio-San C500 concrete has been used to protect against MICC attack.
Crack Repair in Xypex Bio-San C500 Treated Concrete
Xypex recommended procedure for crack repairs performed on the sewage side of concrete elements that contain Xypex Bio-San C500.
Repair of Defective Bio-San Concrete, Rock Pockets or Honeycombs
Xypex recommended procedure for repair of standard, small or medium-large sized deficiencies in Xypex Bio-San C500 treated concrete.
General Resources
Specifications – Bio-San C500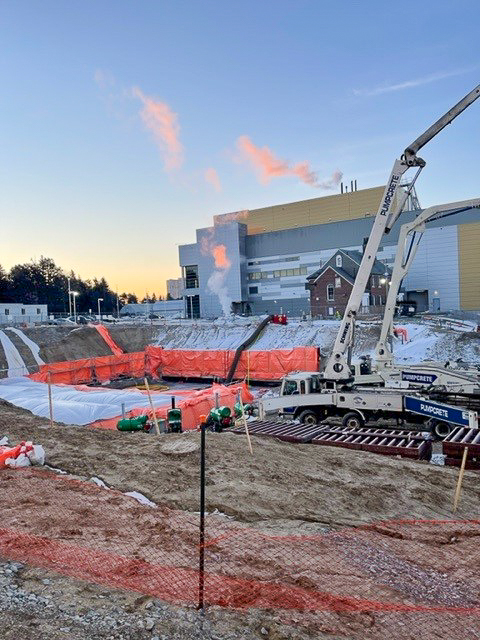 Sanofi Pasteur Toronto Water & Wastewater Management Facility
Consulting with the Xypex team, the engineers and contractors determined that using a Xypex system would be the ideal solution to protect and waterproof the new concrete structures.

To achieve this, Xypex Admix C500 and Xypex Bio-San C500 replaced the traditional coating specified for this job.

Both Xypex Admix C-500 and Bio-San C500 are added to the concrete mix at the time of batching, eliminating the need to apply a coating at a later date.

These Xypex products react with cement and the byproducts of cement hydration to fill the capillaries in the internal structure of the concrete, creating a non-soluble crystalline matrix to waterproof the concrete and protect it from chemical attack throughout its useful life.
Projects Using This Product