About Xypex
More than fifty years ago,  the development of crystalline technology by a team of scientists at Xypex Chemical Corporation revolutionized the way that concrete is protected from intrusive liquids.  The key to Xypex concrete waterproofing technology is its innovative approach to treating concrete at the microscopic level.
Through commitment to excellence and ongoing research and testing, Xypex Crystalline Technology has evolved into a family of waterproofing products that solve water issues in construction and permanently protect concrete structures in challenging environments in all climates across the globe.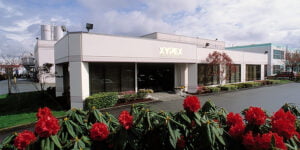 Xypex Generates Immediate Value
Does not require dry weather to be applied
Xypex does not require costly surface priming or leveling prior to application
Xypex does not require sealing, lapping and finishing of seams at corners, edges or between membranes
Fast repair on wet surfaces – Xypex does not require a dry surface; in fact, a wet surface is necessary
It cannot puncture, tear, or come apart at the seams
It does not require protection during backfilling or during placement of steel, wire mesh or other materials
It can be applied on either side of a concrete surface – the negative or the positive (water pressure) side
Xypex Delivers Long-term Value
Permanent one-time application, Xypex reactivates and self-heals whenever water is present
Lowers whole-life cost of the project
Lowers maintenance and rehabilitation costs
Extends service life of structure by up to three times
Xypex is Sustainable
Extends service life
No VOC's
Reduces construction time
Reduces maintenance
100% recyclable
Reduces human presence on site
LEED accreditation
Xypex, Extending the Service Life of Concrete
As a building material, there is no doubt that concrete is unrivalled, which is why much of our built environment, far into the future, will continue to depend on concrete for its buildings and infrastructure. However, as a building material, concrete faces two major challenges: Ensuring that concrete maintains its performance over time and the high carbon footprint that comes with it.
In this video, members of the Xypex leadership team explain how Xypex helps the concrete industry around the world meet these challenges by significantly extending the life of concrete structures using a proprietary crystalline waterproofing technology that is environmentally friendly and can extend the service life of structures from 50 to 150 years.
Xypex Chemical Corporation's global family of waterproofing products protect and repair concrete structures in more than 90 countries worldwide.
Supported by a worldwide network of representatives, distributors and licensees, proven through years of service, and specified in thousands of construction projects around the world, Xypex products set the standard of excellence for waterproofing, protection and repair of concrete. We are committed to providing our customers knowledgeable, responsive and reliable service and manufacturing products that reduce negative impacts on climate while sustaining the natural environment.
Feature Projects
Explore our expanding list of Project Profiles to learn how Xypex Crystalline Technology waterproofs, protects and repairs concrete.
Read more about what makes Xypex truly unique. Download the Xypex corporate brochure.
Discover how, Xypex Chemical Corporation, one of the world's leading manufacturers of products for the waterproofing, protection and repair of concrete structures, has been serving concrete users in over 90 countries.